Counter-Depth Refrigerator
Easily share family moments and news
Family Board
Enrich your family life by easily sharing news, messages, special moments and new photos, videos on the Family Board. Simply use the home screen to share photos and video clips, post stickers, draw pictures, type or hand-write notes, share schedules and website links.
Never forget important family events
Calendar
Make sure that you never miss a family event. The Calendar app lets you share and check the schedules of family members at a glance. You can update entries on the fridge or from a smartphone and synchronize the schedules with Google and Microsoft calendars*. So you won't forget important dates!
Easily stay in touch with all the family
Memo, To-do, Gallery
Enjoy a really fun and effective way to communicate with your family. Using the Memo, To-do and Gallery apps you can quickly share memos, task lists, instructions, activity schedules and photos. When anyone steps close to the fridge the home screen turns on, so they can see what you've said.
Let your fingers do all of the talking
Whiteboard
Avoid the hassle of finding a pen and paper to leave personalized messages for your family members. With the White Board application you can create messages simply by using your finger to draw pictures or handwritten text. You can even use emoticons, and replies can easily be added to messages.
Cook while enjoying your favourite content
SmartView (Phone/TV Mirroring)
Watch TV programs or access online content. Using a widget you can quickly launch popular video streaming or social media apps. The SmartView app can also display what's showing on any Samsung Smart TV* and lets you view and control the millions of apps that are available on your smartphone**.
* Compatible TVs: 2015-2017 models of Smart TV: J/K/MU6400 series or higher, 2018 models of Smart TV: NU7400 series or higher, 2019 models of Smart TV: Q60R series or higher, 2020-2021 models of Smart TV: Q70 series or higher and Lifestyle TVs (The Frame, The Serif, The Sero – excluding The Frame 32″). Please check the compatibility information for new TVs on samsung.com. It may not work when the Samsung TV software is changed.
** Compatible with all major apps on Samsung Galaxy S6 models or later, running Android 8.1 or higher.
*** App and screen images simulated. Actual features, services and UI may vary.
Non-stop music & entertainment anytime
Spotify / Amazon Music / Tunein Radio
Listen to your favorite playlists, songs and artists while you cook with Spotify or Amazon Music. Or stream non-stop entertainment with access to global radio stations, news, podcasts and comedy shows on TuneIn.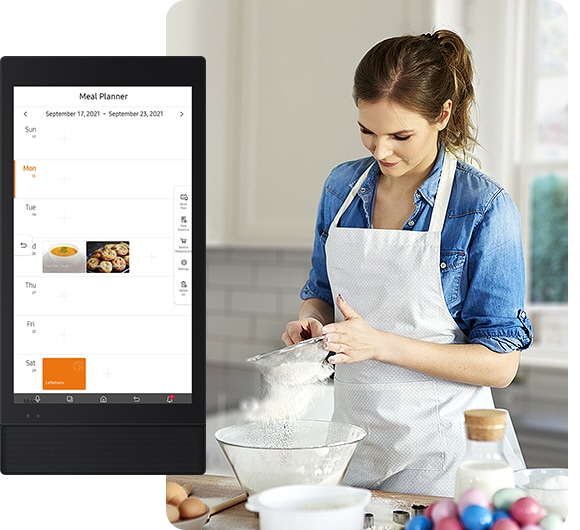 Easily make your family's favourite food
Meal Planner with quick plan
Cook food your family loves. Using artificial intelligence and food profiling, Smart Recipes app provides delicious recipes with simple instructions and can send the oven the right settings*. A weekly Meal Planner suggests meals to cook each day, based on what you like and the food in the fridge.
* Only works immediately when the Smart Control is already turned on in the connected oven. When Smart Control is turned off it only sends setting information.
Shopping made simple wherever you are
Shopping List
Plan meals and buy food you need with the Shopping List app. Just add any items or ingredients you need to your list with a touch or voice command. Synchronize the list to your phone, so you have it handy for your next grocery trip.
Smart home montioring all in one place
SmartThings
Keep tabs of what's happening in and around the house with the SmartThings* app. Using your voice or a touch on the screen, you can instantly control other compatible smart devices around the home. You can turn them on/off, adjust settings, co-ordinate activities and limit power usage. You can also monitor up to 6 cameras around the house on its widget**.
* Available on Android and iOS devices. A Wi-Fi connection and a Samsung account are required.
** Features and contents may vary country.
*** Screen images simulated. Actual features, services and UI may vary.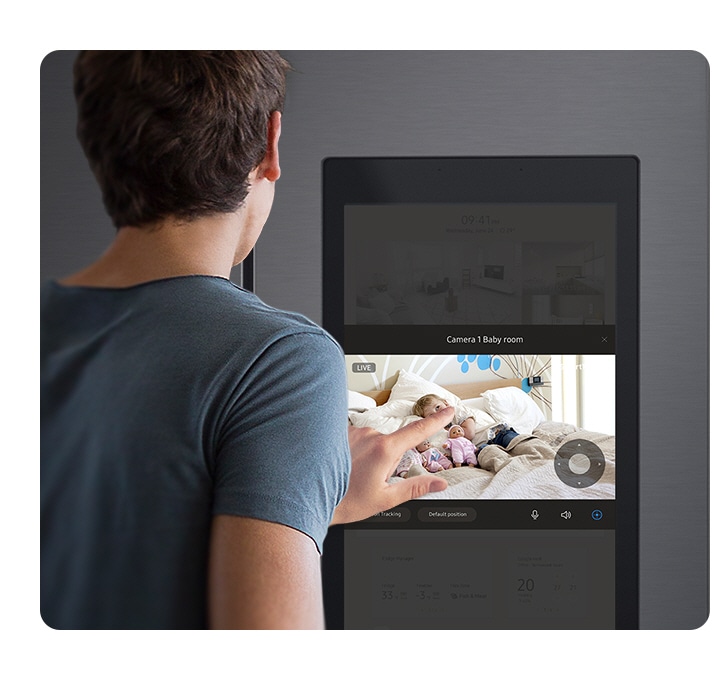 Make & receive phone calls hands-free
Bluetooth Call
Make or receive calls when you're cooking without holding a phone. Using Bluetooth connectivity, the refrigerator can seamlessly connect to your smartphone*. So you can easily answer it or call people just using your voice. And there's less risk of dropping or damaging it with sticky fingers.
* The ability to respond and to make calls using your voice is available with any smartphones with Bluetooth.
** Screen images simulated. Actual features, services and UI may vary.
Flexibly preserve the freshness of food
Flexible Storage
Keep different foods fresh in the optimal conditions. The FlexZone™ is an independently controlled compartment with five pre-set modes: Freeze, Soft Freeze, Meat/Fish, Fruit/Veggies and Beverage. There's also a Flex Crisper for meat or fish and a Crisper+ for fruit and vegetables.
Clean Lines, Stylish Look
Modern Design
Give your home a stylishly integrated appearance. The new premium design features minimalist flat doors with recessed handles that give a sleek and neat look to your kitchen, easily blending in with existing appliances and cabinetry.