French Door Refrigerator
More Ice More Choice
Dual Auto Ice maker
Be prepared for any occasion with two different types of ice. The Dual Auto Ice Maker makes both Cubed Ice and Ice Bites™, which chill your drink faster. It can make 5.3lbs of ice a day and store up to 9.9lbs*. And, as it's in the freezer, it frees-up space in the fridge.
* Based on laboratory testing. Regular depth model only (Counter depth model = 7.3lbs).
Large Capacity
With 28.6 cu. ft. of capacity, this spacious refrigerator is designed for convenience, offering flexibility and organization to store and access all your favourite foods with ease.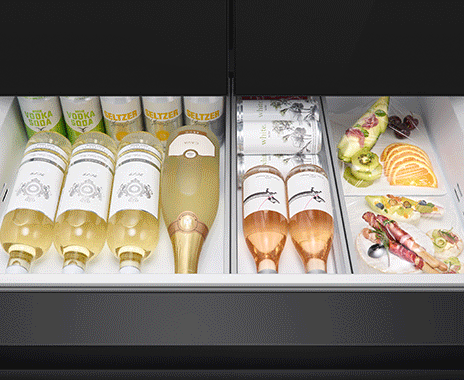 FlexZone™
The FlexZone™ drawer is an independently controlled compartment with five pre-set temperature modes: Freeze, Soft Freeze, Meat/Fish, Fruit/Veggies and Beverage. This middle drawer can store everything from fruits and vegetables to your favourite meat and seafood.
* Or Beer mode. Mode name can vary upon region.
View inside with ease
Food Management
See what's inside your fridge from your phone* or on the home screen. View Inside internal cameras let you check what's in your fridge. Using an upgraded food recognition system, it automatically tags food types and lets you create shopping lists, food memos or reminders.
* Via SmartThings app. Available on Android and iOS devices. A Wi-Fi connection and a Samsung Account are required.
Meal Prep like a Pro
Cooking Convenience
See inside your fridge with ease*, search recipes based on what you have on hand, plan weekly meals and send cooking instructions to your Samsung smart oven.**
* Available on Android and iOS devices as part of the SmartThings App. A Wi-Fi connection and a Samsung Account are required.
** Only works immediately when the Smart Control is already turned on in the connected oven. When Smart Control is turned off it only sends settings information.
Control your smart home devices
Connected Living
See who's at the front door, monitor multiple rooms, use voice control with Alexa, adjust your smart thermostat, get appliance notifications, and more. Via the SmartThings App* you can control multiple smart devices with voice or touch controls. Google Nest** integration also lets you control Nest devices, like thermostats, cameras and door bells***.
* Also available on Android and iOS devices. A Wi-Fi connection and a Samsung Account are required.
** Google and Google Nest are trademarks of Google LLC.
*** Compatible with the Ring Video Doorbell Elite / Ring Video Doorbell Pro with Chime Pro / Spotlight Cam Mount / Spotlight Cam Wired / Stick Up Cam Battery / Video Doorbell / Video Doorbell 2 / Video Doorbell 3 / Video Doorbell Pro.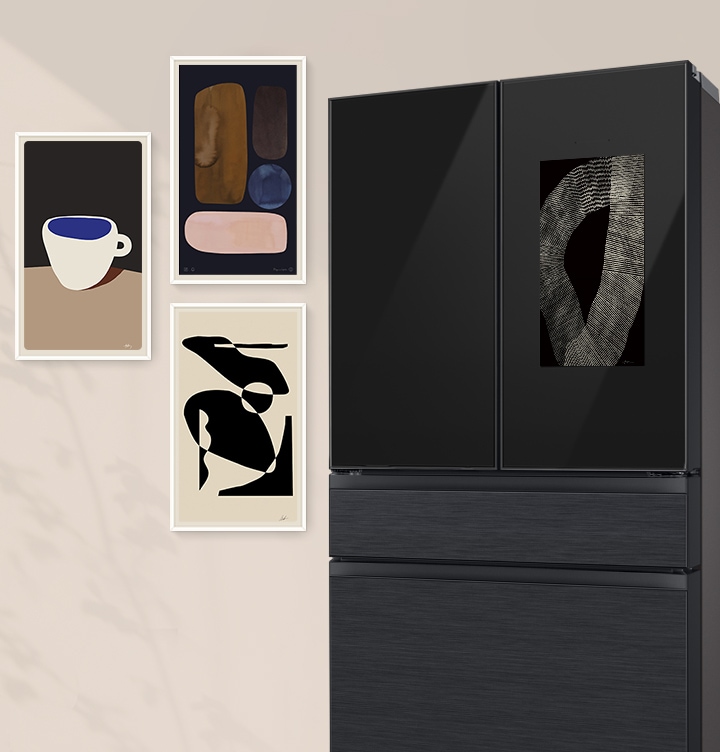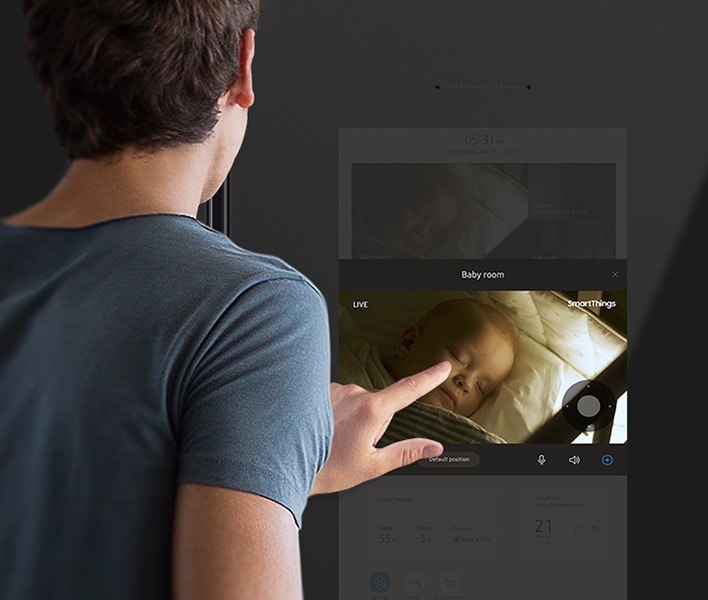 Bring Entertainment into the Kitchen
Entertainment
Don't miss a minute of movie night by mirroring your Samsung TV to the Family Hub™ screen. Bring music into the kitchen with your favourite music services. SmartView mirrors your Samsung TV* or smartphone** apps on the home screen. And you can stream songs with Spotify and Amazon Music***.
* Compatible TVs: 2015-2017 models of Smart TV: J/K/MU6400 series or higher, 2018 models of Smart TV: NU7400 series or higher, 2019 models of Smart TV: Q60R series or higher, 2020-2021 models of Smart TV: Q70 series or higher and Lifestyle TVs (The Frame, The Serif, The Sero – excluding The Frame 32′). Compatibility information for your Samsung TV is available on samsung.com.
** Compatible with all major apps on Samsung Galaxy S6 models or later, running Android 8.1 or higher.
***A Wi-Fi Connection is required.
Continuous art gallery
Art Gallery
Immerse yourself in a world of beautiful art. Art Gallery' automatically displays various works of art in the "Cover Screen" mode*. With over 200 paintings in a wide range of art styles, from classical to contemporary, images of your favourite art can be shown randomly for up to 2 hours**.
* Users can configure when the Cover Screen mode activates (from 15 seconds to 5 minutes, based on the user's preference).
** Each piece of artwork can be shown from 2 minutes to 2 hours, based on the user's preference.
Twin Cooling Plus™
Ensure food stays moist and fresh for longer.* Twin Cooling Plus™ optimizes the temperature and humidity in the fridge and freezer with independent cooling. It preserves food better and protects its flavour by preventing odours from mixing.
* As compared to Samsung fridge without Twin Cooling Plus™.
Metal Cooling
Maintain the optimal temperature inside the fridge. The stainless steel paneling helps retain cold air to maintain consistent temperature throughout the refrigerator.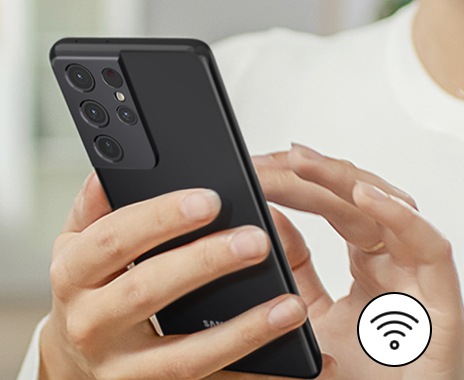 Wi-Fi Connectivity
Use the Samsung SmartThings App* on your smartphone to control the Rapid Cooling modes, change the temperature and get alerts if the door is left open. You can also monitor energy consumption.
* Available on Android and iOS devices. A Wi-Fi connection and a Samsung Account are required.